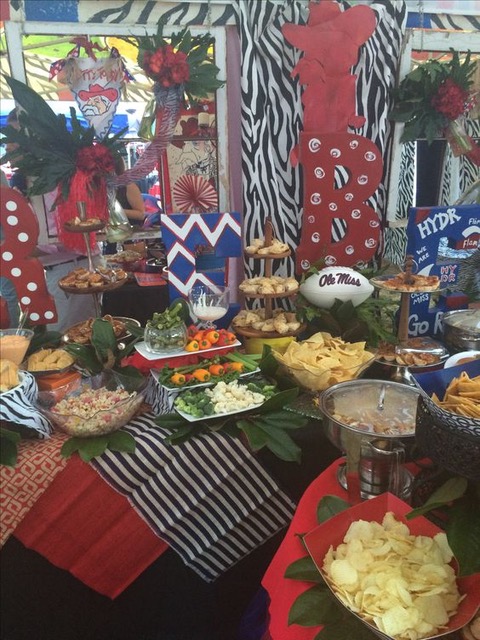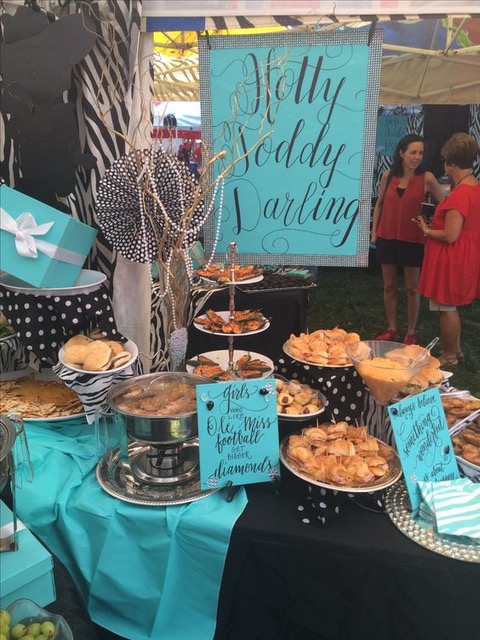 Making your tailgate tabletop pop isn't as hard as you think! Start with these four easy steps and you will see your tablescape start to come together!
1. Colorful printed table runners- I found these at Discount Building and Supply in Oxford, Ms. After you put on your solid color table cloth, just add fun runners! I like to crisscross mine, but you can do them so many ways!
2. Brown boxes (risers) in different shapes and sizes. You may leave them brown or you may paint them. I like to add ribbon to the top and bottom too. I love to use them to raise my tiered serving pieces. They are also good to give your center piece some height. You can find them at most craft supply stores. They run around 6 or 7 dollars each. Hobby Lobby usually marks them 1/2 off once a month or so!
3. Fabric swatches in your team or the tent theme colors- I get mine at Walmart near fabrics and crafts. They are $1 to $3. I put them in the chip baskets, the tiered serving dishes. They are also cute tied to the handles of serving dishes.
4. Small Canvases- I love to use team or theme phrases on these! You can frame them in frames or frame them with ribbon or printed duck tape. I like to paint them before writing on them. I have also seen people put the name of the food in the chafer dishes on them. These can be found at any craft supply store.